I was pleasantly surprised to find out that the trip to Mount Rushmore
included more than just seeing the mountain with the faces. Yes, it is great Americana, yes, it is awe inspiring but is that all there is? Well no, Kaye Heins, it is not.
Mt.Rushmore is in the beautiful Black Hills of South Dakota, an area I would love to return to and spend more time. It is a National Monument on the edge of a beautiful state park,
Custer State Park
. The drives through CSP are magnificent. On the way to Mt. Rushmore, we went through some rock tunnels
that I swear you could not have gotten a slice of bread between our truck and the wall.
One of the tunnels is made so that you see Mt. Rushmore framed by the sides of the tunnel. This whole state park was designed by a past governor of South Dakota who knew beauty when he saw it in nature.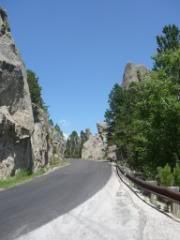 He mapped out the roads and tunnels from horseback, helped design the over passes and bridges and had great fun I am sure making drivers double back on their trails.
There are at least three distinctly different trails, The Needles Eye, Iron Mountain (I think) and the Wildlife Loop. We took each trail on a different day just to take in the sights and not be too overwhelmed. Basically we were still overwhelmed.
The trip to Mt. Rushmore is just as awesome as the mountain itself. I will show you some of the tunnels we went through, the roads we traveled, called pig's tail, and the mountain.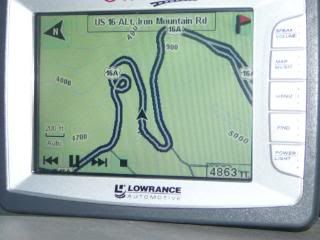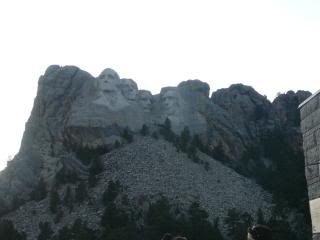 We went late in the day so we could see the mountain lit up. What we did not know was there would be a ceremony honoring all those who had served in the Armed forces. Quite a sight to see the young and the old, men and women, black white and Indian all on the same stage being honored for serving their country. I was proud to be an American!
Of course, "new shoes Heins" had to show off his mountain goat abilities
.
Our next day was spent on the Needles Eye Highway.Quite awesome, to say the least