I cannot believe it has been this long since I wrote in this blog. Where has the time gone? We got back from Florida and started the unpacking again. This time it was emptying the boxes we had stashed just to get them out of the way. My craft room was one project. The Man bought me a large double door cabinet to put all my crafty things in...Guess who didn't know how much crafty stuff I had squirreled away. Any way some of it went in the closet on shelves, some in the new cabinet, some to Goodwill and some to be recycled with other crafters.
We live only about 8 miles from a cute small town with lots of boutiques and craft shopes, one of a kind jewelry, etc. I knew there was a wonderful quilt shop there but I didn't know about the rest. I went to the quilt shop and found out about a Redwork embroidery class that I could join. I thought this would be a great way to meet people. The patterns are cute but the class is expensive. Being the frugal kid I am, I decided to only take some of the classes since they give away free patterns, use the bought and the free patterns and make a small quilt not the double bed sized one they show.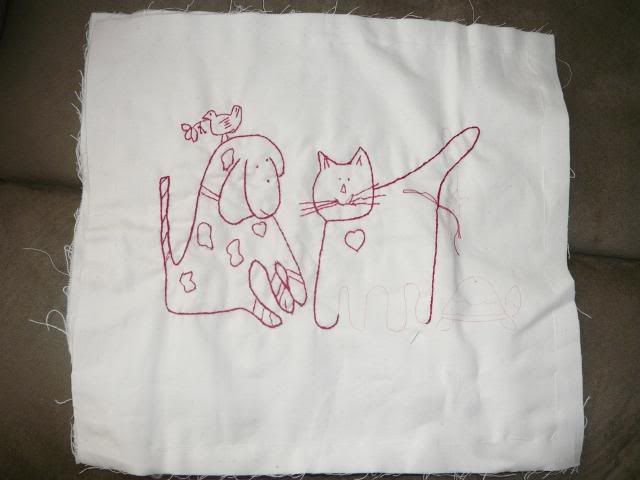 These blocks are about 12 " square. Think red sashing and red and white border... cute,huh.
Anyway I found out from them about a new knit shop that had opend so I wandered over there. Cute shop, new still getting yarn in. But I found out from her about this thing on the internet called
http://www.meetups.com/
Have you heard about it?
From meet ups, I found out about a knitting group that meets once a month at the library. Went to that and was told about another one that meets twice a month in a coffee shop, went to that.
The one in the library is very small, but friendly. The one in the coffee shop is going to outgrow its meeting place soon.
So I had to have portable, mindless knitting for that...Enter the Ballband dishcloth.
I have done this so many times I don't have to pay too much attention to it.
Somehow I read or heard that a scrapbooking store here was having a midnight rop party . Of course I had to go to that..found out I am too old for the midnight thing, I was home by 10 PM, but I did get a cute card done for my nephew. The pictures are awful, but the card is cute.
Most of these only meet once a month. I will figure out which ones I like then drop the rest. Or they will drop me when we travel to Indiana this summer.
I am still very interested in genealogy. What amazes me is that I am finding out about family I never knew existed. I think had I known there were 'Patriots" in my fmaily that fought for Francis Marion, in the Rev war I would have been more interested in history.
I have gathered tons of information and have no idea what to do with it....but it is fun.