Our next four nights and five days were spent in a magnificent campground in Lovell Wyoming. It is a National Recreation area built by the Bighorn Lake.
There are big sites
a beautiful lake, and the best part...it is FREE!
Of course there is no phone service, no internet service, no electricity, no water, but FREE!The Wild Mustangs of Wyoming and the Bighorn sheep are right there too. We were fortunate to be at the lake during Lake Days and they had FREE Boat Tours...what more could you ask?
Since we saved so much money on our site, we felt we could ride more and further and see the area.
Our first afternoon we met a couple that told us about the horses and where to see them the sheep
and where to find them and a back road we might want to explore...see what I mean about helpful? We will meet them again in Gillette, WY when we go to the Rally.
And the sheep are gone
So off we went to explore.
We drove down the road to Devil's Lookout and peeped over the edge. There , that pea green ribbon is the Bighorn Lake.
We were bombarded by these tiny little birds that flew very close to you and very, very fast, canyon swifts.
We drove on and saw our
first wild mustangs,
excitement.....
The next day we got a little braver and took some of the unpaved roads into the canyon. I cannot describe how beautiful it is here. So different from anything I have ever seen, very remote and quiet. There is even a different smell here. I spent a lot of time just looking at the wild flowers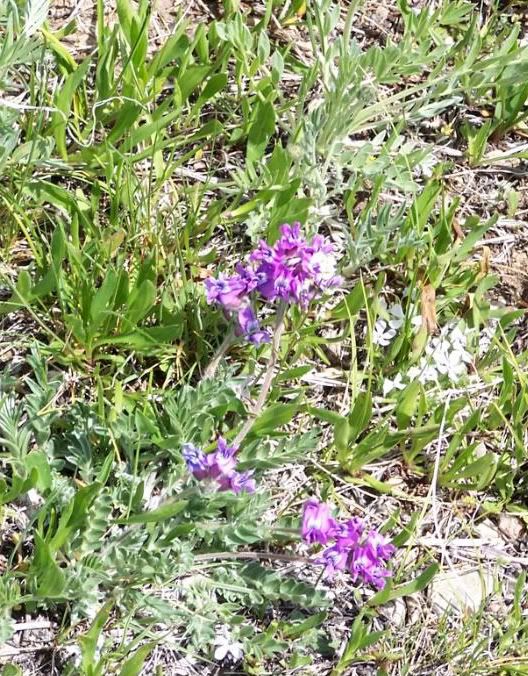 and thinking about the diverse country we live in. Of course there is always the warning signs, I swear!
These little guys had figured out a way to be free....out of the fence, but their buddy was not quite so brave.So they visited him. It is as if they are trying to coax him to just try freedom