I feel so bad about this but honestly since I arrived in town I have either not had good WIFI, not had the correct computer, or something!But I am back again with all kinds of news and fun.
First off.....we are buying a house. This has been in the works since we were in the blizzard in Yellowstone. Having nothing to do there because of the SNOW in June,we started looking at new homes in Charleston, SC on the internet. We were stunned to discover 1) we could afford a new home 2) we liked condos and no yard and 3) we were ready to do this. Huh! no one was more surprised than we were to find out we were ready to settle.
So I came to Charleston and looked at the one we chose and just loved it....good thing since we had signed a contract, sight unseen. Then construction was delayed and delayed again. Actually had they started it when they should have we would be moving in this month. So on to Plan B, there is always a Plan B in my life. Sure enough there was one to be ready the last of Nov. and we grabbed it.
We will live in Dorchester County just about 3 miles into the county and about that far from our younger son's condo.We love the entrance into the subdivision:
then there is our street with the brick road:
not yellow darn it! Then our house. As you can see they are hustling to get it done by Nov 28th.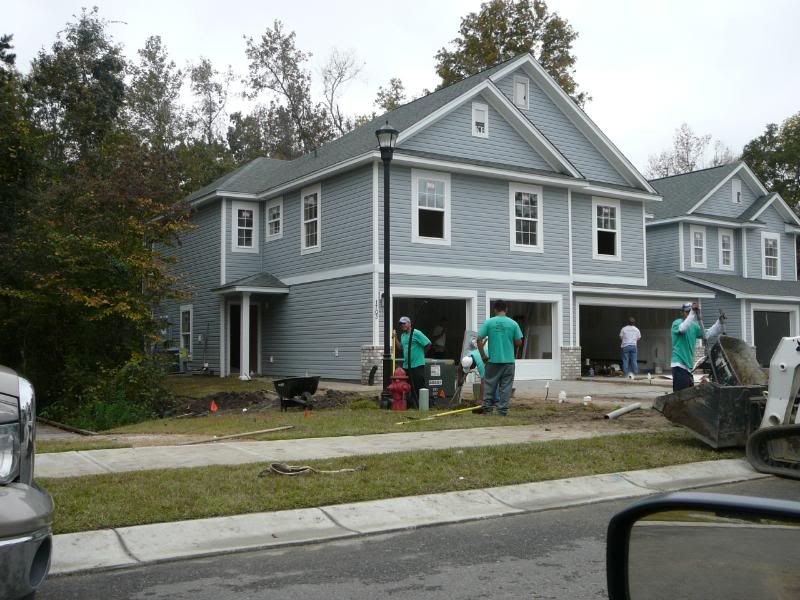 There are 4 units in the building and we are on one end.
We will live in the last unit on that side of the road before the wetlands.
As a matter of fact there are wetlands on the side and behind our house. Plus there is a nature walk right there too. The puppies will love this!
Enough about the house already...Pictures to come when we can get inside.
We are in our favorite campground in Charleston, the only campground in Charleston. It is the only campground that we have been in that has such a great dog run. this thing is huge. We have two dogs that like to run. Here are some poodles having the time of their lives.